TEACHING TELLING TIME INTERACTIVE LEARNING LESSONS - TIME PRACTICE GAME - TIME LEARNING EXERCISE - PRACTICE - LESSON PLAN
TELLING TIME - MATCH THE TIME LESSON
These interactive learning exercises are designed to help your
students learn and practice telling time. Students are to press the button
under the clock with the matching time Start with hours only, and work your way
up to all time intervals. Create your own difficulty level based on your students' skill level and needs.
Directions: Choose the interactive lesson. Either choose a full lesson, or set your own configuration below. Then push the button to open the lesson in a new browser window. If your browser is internet explorer, you may then press function key F-11 to set to full screen mode. If you do not see the interactive lessons once you push the button, go to our interactive page to download the necessary software. Close the window to end the lesson.
Please select your level:
LEVEL 1 (EASY)
LEVEL 2
LEVEL 3
LEVEL 4
SELECT YOUR OWN OPTIONS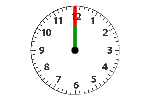 Create your own lesson by selecting your own options for this interactive learning exercise game.
First choose the starting lesson level, and then the ending lesson level. The lesson
will begin with the starting lesson, and end with the ending lesson.
Finally, choose how many questions will be asked for each lesson.
After your choices have been made, press "get interactive exercise" and your
lesson will open up in another window. You may then press F-11 to switch to full screen.