CHEMICAL ELEMENTS LESSON PLAN
Lesson Materials
Elements Literature

Manila Poster Paper

Glue

Pencils

Markers

Black Pens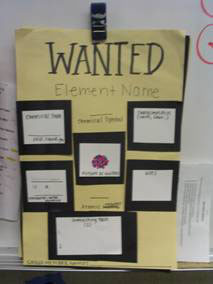 This model served as a reference for students as they created their posters.
Academic Language Focus
What it means to interpret a table
How to research given aspects of an element
How to use research to create an original poster
What it means to work in a cooperative group (dividing up tasks, working collaboratively, etc.)
Introduction
Engage the students by first reading from an interesting book about the chemical elements and periodic table.
Some great book selections:
Elements (David Krasnow and Tom Seddon)
Chemical Elements: From Carbon to Krypton (David Newton and Lawrence Baker)
The Mystery of the Periodic Table (Benjamin Wiker)
Explain to students that scientists think that all matter on earth is made up of these elements. Using an overhead projector (or a blown-up copy) and individual copies for each student, show students the periodic table and discuss how the elements are organized. Discuss with students that the elements are organized by:
Element (metal, non-metal or metalloid)
Atomic number (the number of protons in the nucleus of the element)
To see if students can interpret the table, give them an element and ask if it is a metal, non-metal or metalloid. Give students an atomic number and ask them to identify the element. Explain to students that elements have varying states: solid, liquid and gas. Ask students the state of elements such as oxygen (gas) and silver (solid).
Body
Tell students that today they will be creating a WANTED poster for a specific element. Assign or allow students to form groups of 3 to 4. Once students are in groups, pass out one Chemical Elements Graphic Organizer and one photocopy of the periodic table to each group. Students can choose an element out of a hat, play pin the tail on the element, or just be assigned an element to do their project on.
Explain to students how to fill out their graphic organizer and create their poster. Encourage students to use the Web, library books, and their text books to research information on their element. Once the graphic organizer is completed, students can cut out the information cards and glue them to their poster. Provide students with a nearly complete model of the finished product to refer to. The poster must include:
A WANTED title
Group members' names
Element name
Atomic number
Chemical symbol
Metal, non-metal, or metalloid
Chemical state (solid, liquid, or gas)
Picture of the nucleus or an object that contains the element
Uses
Characteristics (color, odor, etc.)
Interesting facts
The copy of the periodic table with the element's box shaded in
Tell students that everyone in the group must have a job to do (researcher, recorder, artist, etc.). Encourage students to use cooperation and to delegate jobs.
Explain to students that they will present their poster to the class. All students in the group must speak during the brief presentation (see rubric for grading).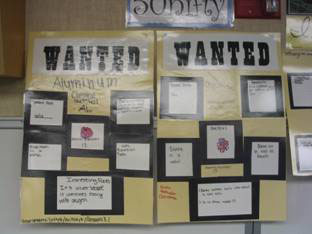 The finished posters were laminated and displayed on the wall.
Closure
At the conclusion of the presentations, have students share with a partner a new fact that they learned from this project.
More Science Lesson Plans, Teaching Worksheets, Lessons

For more teaching material, lesson plans, lessons, and worksheets please go back to the InstructorWeb home page.