PERIMETER LESSON PLAN
Directions:
Print the Perimeter reading and questions worksheet (see below).
Students should read the passage silently, then answer the questions. Teachers may also use the text as part of a classroom lesson plan.
Lesson Excerpt
The perimeter is the distance around an object. A square has four sides. To determine the perimeter of a square you can add the length of all four sides of the square together.
Imagine a square with a distance of 4 inches on the bottom side. Since every side of a square is an equal distance then all four sides are 4 inches in length.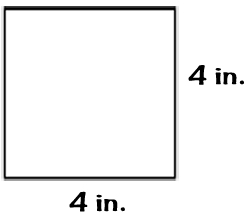 To determine the perimeter of the square above just add the four sides together. Since every side of a square is the same, the perimeter is:
4 inches + 4 inches + 4 inches + 4 inches =16 inches
The perimeter of the square is 16 inches.
Finding the perimeter of a rectangle can be done in a similar fashion. However, not all sides to a rectangle are the same length.
continued...

Lesson on Finding the Perimeter.

Print this worksheet for this lesson.
More Measuring Lesson Plans and Worksheets
More Math Lesson Plans, Worksheets, and Activities
For more teaching material, lesson plans, lessons, and worksheets please go back to the InstructorWeb home page.